A Monthly
Managed

IT Service Tailored to Business Needs

IT Total Care's ManagedCare™ service is a monthly managed proactive IT service. Where all your tech needs are addressed by us. Including all aspects of desktop support, server administration, and network support.
When you need support just call.
Some advantages of ManagedCare:
Proactively addresses IT needs
Offers preventive monitoring
Increases business efficiency and productivity
Mitigates business risks
Reduces overall IT costs
Our ManagedCare service includes:
24x7x365 Monitoring – Proactive monitoring of servers, workstations, remote computers, network and other critical IT components
PatchCare – Keeps servers, workstations, remove computers updated with latest security & performance software.
SecurityCare- Robust agent technology deploys antivirus networkwide to remote locations, traveling laptops, while providing real-time status updates and alerts for maximum security
RecoveryCare – All inclusive data backup, disaster recovery, and business continuity fixed-cost optional solutions: 24x7 monitoring, local storage for quick recovery, copied to cloud in the event of a site disaster.
ExecWatch – Provides relevant reports on your IT infrastructure, including: Compliance, Asset Management, Service Level Delivery, Security, Risk Analysis, Capacity Planning, Availability Management, Configuration Management and Deployment
ManagedCare is customizable to fit your company's needs. Contact us if you are interested. We respond quickly.
Why Managed IT? Because You Can Eliminate Tech Headaches Finally and Forever Without the Expense of Hiring Your Own IT Staff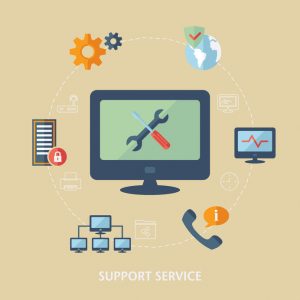 It's tech-driven business world. Computers, servers, software, networks, Wi-Fi, the Internet -- your business relies on them all.
As your tech goes so goes your company's productivity, growth, and profits. Skeptical? Then ask yourself: What would it cost if any one of your systems went down for an hour? A day? How much would lose if you were out of commission even longer, heaven forbid?
Unfortunately, it could happen. It does. We've seen it, time and again.
The need is simple: Tech is too crucial. Every company needs IT support.
But here's the good news: Having Your Own 24/7 IT Support Team is No Longer Beyond Your Reach
Once upon a time, only big companies could afford around-the-clock IT support. Now every company can, thanks to the advanced tools we have at our fingertips to support, manage, and secure your systems. In the hands of our IT experts, they enable us do it at a cost to suit your particular budget.
Those tools include performance agents that allow us to track, audit, and monitor your computers, servers, software, and network all day, every day. While we're looking out for you, you can go home to sleep soundly, knowing your tech is covered no matter what.
What's more, our service never takes a sick day or a vacation.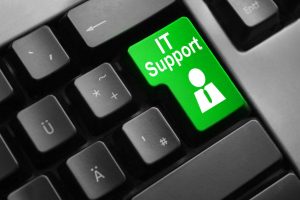 Keep This in Mind: IT Support Isn't an Expense. It's an Investment in Productivity, Profitability, and Security.
Compare our approach to the only two other options your company has.
DIY IT. You could do manage everything yourself. Many small companies do. But who's running the business while you're running tech? What's the real cost in diverting your own time or some other internal resource? By letting us handle the tech, you have more time and attention to devote to your business.
Hire Your Own Staff. It's costly. It requires you to support a salary AND benefits. What's more, your needs go up and down in any given month, but the expenses don't. One other thing: Few single IT engineers have the skill set to cover every imaginable scenario.  Our team does. With us, you can rest assured you're ready for any issue.
Let's do a comparison. We can discuss how we can do a better job -- for less. We can show you how outsourced IT support is the better alternative.
Let's Look at the Seven Best Reasons for Investing in Managed IT  Support Services.
Cost. Taking care of IT yourself takes you away from your business. Paying for an in-house IT staff diverts budget better spent elsewhere. With managed services you only pay for what you need. It's affordable and doesn't compromise quality.
Security. Hackers, viruses, ransomware can hit any business of any size at any time. It happens. Our managed services include the capabilities to make sure it never happens to your company. If they do, we can get you back in no time.
Complexity. Hardware and software are advancing in accelerating cycles of change. It's hard to keep up, easy to fall behind. Managed services make sure your systems are managed and maintained as they should be.
Responsiveness. Understaffed IT departments are slow and error prone. No single IT staffer is equipped with the multitude of skills needed to keep a you running. Our team is. A managed services provider like us can cover any IT issue. We're faster to respond too.
Proactive Prevention. Modern managed IT tools allows our experts to watch over your systems around the clock. They enable us to act before trouble strikes. We manage and maintain your systems to prevent trouble before it happens.
Reliability. Managed services allow you to have a stable and dependable infrastructure.  That's because we're always watching it for you. Plus, we're experts at it. So we maintain your tech at peak performance. Oh, we almost forgot: Our service never takes a sick day or vacation.
Compliance. Personal data is the new currency for doing business in today's digital world. Look at the news. Everyday brings a headline about identity theft. So governments have stepped in. From Sarbanes-Oxley to HIPAA, they're imposing regulations to protect consumer data -- whether it's credit card info, emails, or medical records. Can you keep up with them? We do. 
Now That You Understand Why OutSourced IT Support Can Work for Your Company, Let's Look at the 12 Business Services We Offer.